The Aldan project includes the Bolshoy Kuranakh (buried placer) deposit in the Aldan Area.
17.4 koz
Production in 2018
The Bolshoy Kuranakh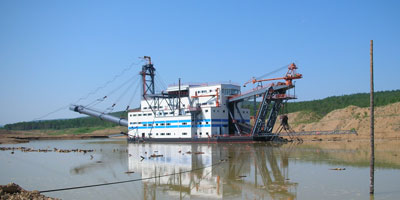 Stage: Production
Geological resources: 1.97 Moz
Dredge fleet: Two 400L dredges and one 250L dredge
Gold production in 2018: 17.4 koz
Placer gold deposit (buried placer) located in the Aldan Area of the Republic of Sakha (Yakutia) is developed by SAKHA Gold Mining, CJSC, the Aldan business unit of GV Gold. The fleet consists of three dredges: one 250-L dredge and two 400-L dredges. In accordance with the updated JORCcompliant statement as of 01.07.2017, the Proved and Probable reserves of the deposit total 1.5 Moz.
Over the season of 2017, from April till December, the mine produced 14.9k oz of gold, which exceeds the respective result of 2016 by 51%. Such growth is associated with the commissioning of the second 400-L dredge, which operated throughout the season. The volume of processed sands totaled 2,923,000 m3, which exceeds the respective result of 2016 by 52%. The average grade of gold in the sands remained approximately at the previous year's level at 0.157 g/m3.